Sarah Hawkins
Sara Hawkins is a LLB Law graduate with an MSc in Finance & Banking Regulation with several years'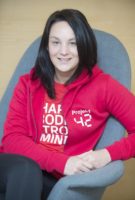 experience working in financial services. After being diagnosed with PTSD in 2012, Sara left the financial services to build a new community gym, Projekt 42 and is now working towards becoming an accountant.
Projekt 42 works to bring a variety of activities suitable for ages 3+ to senior citizens. The aim of the charity's activities is to help children and adults see and understand the connection between their mind and their body, and appreciate the need to take care of both. The gym aims to make, in communities, social prescribing, i.e. access to community, supported group activities, the most popular form of treatment for depression, anxiety and stress.
The charity delivers the UK's only Physical Active Counselling programme – a 12-week course combining personal training, life coaching and counselling designed to help people make sustainable positive changes in their lives, runs 90+ hours of activities per week from family fitness, gentle yoga to Many Thai and combat club.
Since May 2017, over 100,000 class bookings have been made. The unique circular revenue model has enabled over 600 4-week fitness, yoga and meditation free passes to be provided to the community, over 500 hours of free fitness classes have been provided. Ove 2660 volunteer hours have been provided by qualified fitness instructors, 9 community members who were unemployed and who were struggling with depression, anxiety or stress completed fitness training paid for by the charity, 7 Community members have completed Walk Leader Training and can now lead community walks, 10 volunteers attended a Leadership and Management course funded by Social Enterprise Scotland, and three members of the Projekt 42 team now attend University, which is supported by their employment at the charity.
The charity opened in May 2017 with just four volunteers and now has a strong team of 52 employees and volunteers. Since opening, the charity has won several awards including the Social Enterprise 'One to Watch' 2017, Edinburgh Chamber of Commerce 'Best New Start Business' 2018 and was the finalist in the GB Entrepreneur Awards 2018 and 2019, UK Social Enterprise Award 2017 and Scottish Charity SCVO Awards 'Charity Champion' 2018.
---
Hazel Smith
Starting out in community education 25 years ago, Hazel set up, developed & managed organisations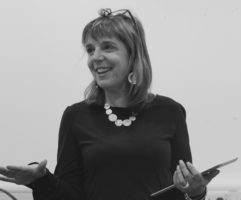 and projects combatting exclusion and inequality working with third sector and public sector services and economic development agencies.
Much of the work she has been involved in over the years has focused specifically on gender equality: managing Women Onto Work in Edinburgh; working with the European Commission on research and development projects that promoted women's participation in education, enterprise and employment and as a volunteer in rural Senegal with women's rural development.
In 2015 Hazel moved back to Berwickshire and applied her life's learning, creating ReTweed, a social enterprise delivering craft, heritage and textiles skills to women who face multiple and complex barriers, breaking cycles of poverty, isolation, ill-health and low aspiration.
Hazel's social enterprise represents excellence in its field: in just three years from start-up ReTweed has gone from an idea to employing 8 staff, becoming a trusted provider with a robust curriculum and great network of multi-agency and word-of mouth referrals, delivering 10 courses to 72 women, and now simultaneously delivers training, commercial workshops and volunteer manufacturing days. ReTweed has moved from borrowed space in a community hall to running a high street retail and workshop space. Women's feedback about their learning is powerful and positive outcomes are real. The Women's Fund supported ReTweed with grant funding at start-up and then again in 2017 and 2018 with awards towards the cost of training and volunteering and more recently for the establishment of a Business Incubator for women setting-up their own creative businesses.
---
Caroline Wilson
Caroline is a coach with Glasgow Girls Football Club.  She coaches the Under 11s and the Under 15s having previously played for the club.  As well as coaching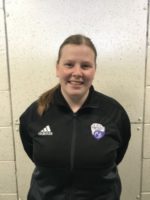 Caroline is a Community & Youth coach at the club and enjoys representing the club for school visits.
Caroline studied Fitness Health and Exercise at Glasgow City College and is now an Apprentice Coach on the coach core programme with Glasgow Sport. Caroline's qualifications include SFA Level 1 Youth & Children's Player Pathway. HND Fitness, Health and exercise and First Aid.
In 2014 Caroline won Young sport volunteer of the year for her Community & Youth work within the club.  Other football related roles include being a Team Secretary and an SWPL Match Day Co-ordinator.
When not living and breathing football, Caroline is a Dispute Resolution Representative with Tesco Bank – a role she has held for over 3 years. This has led to an additional qualification in Providing Financial Services.
If you watch our video of Glasgow Girls closely – you will see Caroline coaching from goals.  Caroline has been a WFS Brand Ambassador since April 2018.