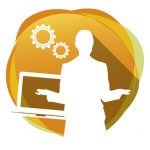 Investment theme: Building skills and confidence
Purpose:
To pay for the continuation of the IT training that the group provide. Costs include a tutor, venue hire and insurance.
Amount awarded: £5000
Location: Highland
Full description
The project provides IT and computer training to local women in order to reduce isolation, build confidence and enhance skills. Weekly sessions are supported through a tutor and are 1 to 1 or in groups of two people. The sessions meet the needs and interests of each individual ie learning email in order to keep in touch with family members, providing skills for entry to employment, enhancing participants' capacity to be involved in other community activities.