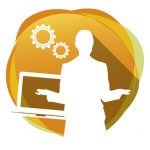 Investment theme: Building skills and confidence, Growing social networks
Purpose:
to contribute 50% of the training costs for a staff member to deliver the STEPS course to Home-Start Glasgow North client group and to support volunteer training for Home-Start Glasgow North and South
Year of grant: 2015
Amount awarded: £1,357
Location: Glasgow
Full description
About STEPS
STEPS is a course that is proven to help participants develop confidence and motivation in order to move towards a better future where they fulfil their potential. It has been shown to have a positive impact on people in a wide variety of situations, including parents, unemployed people, ex-offenders and people who for any reason have low self-esteem.
Scheme Manager, Nikki O'Hara, is a qualified STEPS facilitator. In recent years Home-Start Glasgow North has seen an increase in the complexity of difficulties facing families referred for support. Regardless of the individual nature of their difficulties, the vast majority of parents referred report low self-esteem and isolation. We recognise the huge positive impact that STEPS courses could have on our families, and we would like to increase the organisation's capacity to deliver STEPS courses by getting another staff member trained as a facilitator.
Volunteer Preparation Course:
All our volunteers are invited to attend the Home-Start Training and Assessment course following the application process. Many say this training, and the ongoing training and support, offered by the organisation provide a real insight into the issues facing families today. Volunteers report that Home-Start training helps to increase their confidence and knowledge and together with their parenting experience provides a strong foundation on which to build support for families struggling to cope. Our volunteer training has also been shown to act as a vital stepping stone for individuals who want to fulfil their potential by pursuing new opportunities within education or employment.
Our courses are run approximately 4 times per year and over 8 weeks: volunteers attending on a weekly basis. Once an application for a course is received, a
coordinator arranges a time to visit the applicant at home and further information is recorded to check suitability for the training. The courses are facilitated by two coordinators and training logs for each participant updated as each session is completed. Prospective volunteers must attend every session before the completion certificate is awarded. Once the course is completed a second (shorter) interview is arranged when the volunteer/coordinator has an opportunity to discuss any issues which might have arisen during the training or which may be relevant for their future volunteering