On Thursday 7th August the Women's Fund for Scotland, supported by Baillie Gifford, were pleased to host a roundtable with the Lord Mayor of London, Alderman Fiona Woolf; a strong commitment to philanthropy, women's issues and diversity made for an interesting discussion.
The Lord Mayor attended with her Sword Bearer James North and we were also joined by Tom Ward, Giles Ruck and a selection of interested donors, supporters and advocates of women's issues to discuss and debate some questions crucial to the Women's Fund.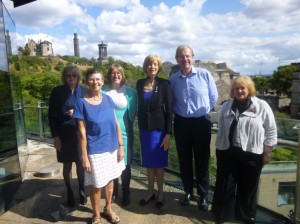 Towards the end of our time with the Lord Mayor, we had a talk by SCOREscotland, a Women's Fund beneficiary and were all inspired and humbled by the work that they do and left in no doubt as to the importance of funding for women's projects
A great many notes were taken, ideas were had and plans put in place to make those ideas happen, as well as several new tasks coming 'online' for the Fund Development Manager!
Most importantly the Lord Mayor of London left the event as a new friend of the Women's Fund and of Foundation Scotland – we should hop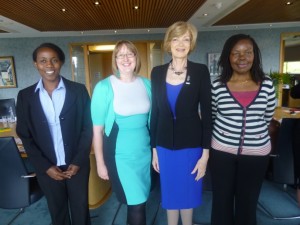 efully be seeing more of her when her term as Lord Mayor ends – so please watch this space! (Photos show Lord Mayor in Royal Blue dress, with guests)