On Monday 18th November 2013 150 individuals came together for the re-launch and celebration of the Women's Fund for Scotland. The Women's Fund has been rebranded and repositioned now it is supported by private donations. It was a very exciting evening with a real buzz!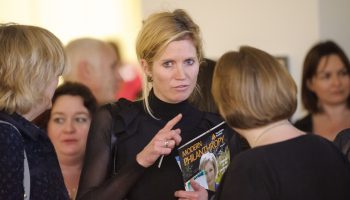 Guests were asked to prepare for an interactive evening and it certainly delivered. After an introduction to the Women's Fund, Fiona Macleod, a member of the Development Board explained why she personally is a supporter. Sally Magnusson was an engaging and enthusiastic host throughout.Various groups presented a video to the audience and shared what they would do with the funding.
There were six groups sharing their stories and their work fitted perfectly into our four investment themes of building skills and confidence, building social networks, improving health and well-being and moving on from violence.The audience then ranked the groups and the group with most votes secured a £10,000 grant, with the next two groups getting £5,000 grants and the remaining ones getting either £3,000 or £1,000. Electronic voting was used to give audience members a real-time response to what they saw.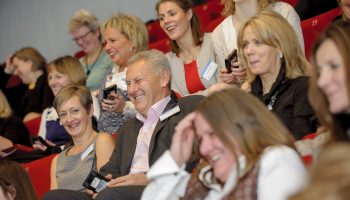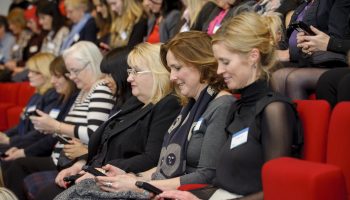 This initial funding was established primarily through past and some recent donations.
The Results
Everyone was a winner:
Glasgow Girls FC were awarded a £10,000 grant
Karibu Scotland were awarded a £5,000 grant
Home Start MAJIK received a £5,000 grant
Dress for Success Strathclyde received a £3,000 grant
The Libertie Project were delighted with a £1,000 grant
And Scottish Churches Housing Action took £1,000 to help deliver their starter pack programme in the North East.
Every group will get to use their short film to help with their on-going fundraising which is another benefit from the evening, for many of the groups creating this sort of resource would have been out of their reach. It is an example of the Women's Fund wishing to help groups do more.
Now that the fund has been re-launched groups working with women will be able to apply for grants to develop new work or to strengthen their sustainability. Our challenge is to keep raising funds so that we can meet these requests, allowing girls and women to reach their true potential, thereby benefiting their families and their communities. If you would like to learn more about inspiring the women in our communities please get in touch with our Development Manager on 0131 524 0353 or womens@foundationscotland.org.uk.
Our beneficiaries and their video presentation
Glasgow Girls FC
Glasgow Girls Football Club received the biggest grant of the evening of £10,000. On receiving the grant Jim Strathdee of Glasgow Girls Football Club said: "We will be able to offer the girls a whole range of options including careers advice, allowing them to reach their full potential."
Their plans for the money are to secure premises where they can create a community hub, install changing and catering facilities and create a place where the girls can deliver lifestyle and fitness tuition to member and non-members.
The grant will also contribute to the annual running costs of the clubs mini bus, which is now sporting the Women's Fund logo and looks fabulous!
Glasgow Girls FC are now offering a Women's Free Keep-Fit Class in association with Women's Fund for Scotland and Active East. Two classes will run at Budhill Hall every Wednesday at 6.30pm and 7.30pm and will offer Metafit, Boxing, Aerobics and Core and Body Weight Exercises.
The club which has over 200 members are now recruiting more girls and women to their teams, making this community focused club even stronger.
Click here to read their story and get an update on the group.
Karibu Scotland
As a result of the grant secured from the Women's Fund for Scotland, Karibu Scotland have been able to make headway in their plans for the future and their plans to make Karibu Fashion a well known brand.
Karibu Scotland have been able to
Recruit new volunteers from across Glasgow as they are now able to support volunteers with travel expenses and child care.
Volunteers have been taught how to use different types of machines
Volunteers are now able to trace the paper patterns from commercial patterns that are available in shops
The volunteers are now in the process of making a skirt using different types of materials
Our existing volunteers continue to learn different sewing techniques and they can make different patterns. Some of them are learning how to support new volunteers to build their confidence
The work of Karibu Scotland really is helping to develop new skills, new contacts and ultimately to build confidence of all the women involved.
Click here to read Karibu Scotland's story.
Home Start MAJIK
Home-Start MAJIK received £5,000 at our re-launch event which contributed to the salary of a new part time coordinator and the cost of volunteer training.
Dee Hancock, senior coordinator said; "The Grant Making Showcase was a very positive experience for us. It was like a ripple effect, the benefits kept coming for a long time after."
Home-Start managed to acquire other grants from the evening's audience and from the publicity they gained from attending the showcase.
Dee continued; "The support we had from the Women's Fund was brilliant. It was very encouraging and engaging experience. With the grant we received we have been able to do everything we wanted to and more."
Dress for Success Scotland
"2013 was a very successful year for Dress for Success Strathclyde. Presenting at the Women's Fund for Scotland event was a great bonus" said Ann Marie, the charity's treasurer.
Dress for Success Strathclyde received £3,000 from the Women's Fund which will cover power and maintenance bills for the next nine months.
Another donor, who also attended our evening, granted Dress for Success Strathclyde £1,000 which was put towards a fund which has also received contributions by the Royal Bank of Scotland Community Fund and Dress for Success Global Fund. With this fund Dress for Success Strathclyde are planning to launch a breakfast club for their clients and are also able to start piloting programmes for their new career centre.
Other fundraising ventures coming up include a fashion show and a Ladies lunch.
Dress for Success works to provide free professional attire, offering a network of support and the career development tools to help women from disadvantaged backgrounds thrive in work. Their purpose is to promote economic independence believing that a woman can then invest in her own future and better her life.
During 2013 Dress for Success Strathclyde dressed over 200 women for interview and employment and are aiming to dress over 250 women throughout 2014.
The Libertie Project
The Libertie Project received £1,000 from the Women's Fund and were also given an additional £2,000 from another donor who also attended our launch night. This money will help Libertie find their own premises to deliver services to women in a safe, secure environment.
The Libertie Project is a social enterprise who work independently with vulnerable groups in the community. They offer arts and craft activities for offenders, those at risk of offending, their families and victims of crime. They aim to improve general health and well-being, develop pre-employability skills and reduce re-offending throughout the Highlands.
Following the launch night a working partnership has formed between Libertie and Poverty Alliance. They have attended a government consultation on the effects of the welfare fund and have also been asked to participate in a joint working approach with criminal justice in developing services for women offenders.
Libertie are also going to supply ceramic trinket boxes for Home Start Majik, who also attended our launch night, as part of their volunteer training.
Scottish Churches Housing Action
If you would like to learn more about investing in the women in our communities please get in touch with our development manager, Shona on 0131 524 0353 or womens@foundationscotland.org.uk.