On the 27th October the Women's Fund for Scotland Chair, Fiona MacLeod and board member, Gwen Stewart hosted a special event for donors and their guests at the Merchant House of Glasgow.
The keynote speaker was Lord George Robertson, who is the former Secretary of State for Defence and Secretary General of NATO. Lord Robertson reflected on his highly respected career in International and UK politics and Business. The audience enjoyed his humorous observations about his career that seen him working alongside world leaders. Lord Robertson ended his speech by encouraging the audience members to invest in the future of society and pave the way for future leaders.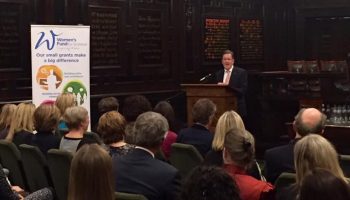 The night then took a more local perspective as charity groups supported by the Women's Fund were introduced to speak. Three project groups explained in their own words, the positive impact the Women's Fund brings to families and communities across Scotland. The audience were given an insight into how the Fund dramatically changes people's lives. The women we support are given hope and begin to take control of their future. Their self-confidence, self-esteem and happiness improves as employment opportunities arise; friendships and bonds are formed offering support and some women even take the steps to leave their abuser and move forward from violence.
A domestic abuse project delivered a very powerful, emotional speech. The founder of the group shared that women come to them with scars – emotional and physical. The project thanked the Women's Fund for caring and for supporting them in building the confidence of women who have suffered (or are still suffering) from violence and cruelty and are trying to move forward. – The Women's Fund would like to thank them for sharing their personal story.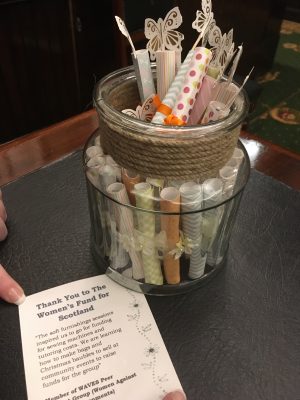 Above: A jar of quotes from women thanking the Women's Fund for Scotland and explaining the difference the Fund has made to their life.
Gwen thanked all the guests for coming to learn more about the Women's Fund for Scotland. She shared that it is a privilege to give such inspirational groups, who support women facing adversity, a voice. However she reminded the audience that the board have to continue to raise awareness as without donations, we can't make awards. The Women's Fund has a huge impact on women, their families and the communities and needs support to continue making a huge difference.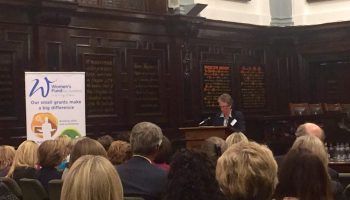 Many of the guests were moved with the stories they had heard on the night. There was an opportunity for guests to speak to the group members at the end of the night and hear about their personal stories.
"It was great to hear the inspiring stories of how the Women's Fund helps over 700 groups across Scotland."
Emily Ward, who attended the event.
If you would like to hear more about the Women's Fund and possibly visit a project contact Shona@foundationscotland.org.uk