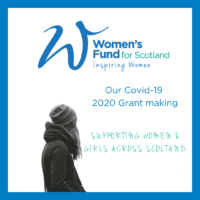 Thanks to the support of the Castansa Trust, The Ward Family Trust, Eve's Trust, Baillie Gifford, some private donors, and the Oak Foundation the Women's Fund for Scotland was able to raise £187,000 to support the needs of women and girls in Scotland during the Covid-19 pandemic.
This funding has been issued to our impact partners (groups that receive our grants) in three phases:
An emergency phase where the focus was on getting funds out to groups as quickly as possible.
A recovery and resilience phase – we ran an open programme and publicised it widely – this meant that any group who met our guidelines, criteria and applied was considered for a grant
Meeting the gaps phase – we are identifying gaps in grants made. We aim to have a wider geographic reach, support more groups where women and girls with disabilities are supported and more groups where black, Asian, and ethnic minority women and girls are supported.
As of 13th October 2020, we have made 41 grants with a value of £153,324 supporting almost 14,000 women and girls in Scotland.  With an average cost of £11.00 per women or girl supported.
Grants have been made to the following organisations:
| | | |
| --- | --- | --- |
| Organisation Name | Project Description – Summary | Town |
| Argyll and Bute Rape Crisis | To cover the cost of an additional 20 hours to be shared between 3 existing part time members of staff to provide support via the new live web chat as a way to help those that don't have the privacy at home to call the helpline. | Dunoon |
| Martyn's Monday Club | To support the cost of employing a women's peer support coordinator | Oban |
| Broomhouse Centre | To increase the hours of the existing women's support worker by 8 hours a week for 3 months, and for another part time post for 8 hours a week also for 3 months to increase their capacity to support women with poor mental health further impacted by COVID-19. | Edinburgh |
| Empower Project | To contribute to the delivery of an online selfcare and resilience webinar series to explore what it is to be a woman online and how to use the internet safely | Edinburgh |
| Stepping Stones North Edinburgh | To contribute toward staff salaries to mitigate the impact that the deferral of the City of Edinburgh Council contract will have on the organisation during the pandemic, ensuring funds are available to pay salaries which are vital to reaching vulnerable families impacted by Covid19 . | Edinburgh |
| SHE Scotland CIC | To contribute to the cost of converting their current workshop content into an online format and to provide resources to participants to enable them to continue to provide support and learning through the current period of lockdown. | Edinburgh |
| Pregnancy Counselling and Care (Scotland) | To cover the cost of the Managers salary for 3 months due to loss of income from their charity shops and to allow the project to continue to support beneficiaries. | Edinburgh |
| FENIKS. Counselling, Personal Development and Support Services Ltd | To provide an additional 5 hours a week of counselling to 10 women (8 sessions each). for 3 months | Edinburgh |
| Edinburgh Rape Crisis Centre | To support the cost of increasing their support to survivors of sexual assault and abuse by 8.45 hrs a week for the next 3 months. | Edinburgh |
| Pregnancy and Parents Centre | To contribute towards the costs of running an online group for new mothers. | Edinburgh |
| Pain Concern | To contribute to the cost of producing a new Airing Pain radio programme and podcast, aimed solely at women, which will look at the connection between domestic violence and chronic pain and the impact of the current coronavirus crisis | Edinburgh |
| Edinburgh City Mission | To contribute to delivering the 'Peaced Together' arts programme to support positive mental health | Edinburgh |
| Bright Light Relationship Counselling Ltd | To contribute to the sessional salary costs of a counselling/like skills coach to support women recovering from domestic abuse. | Edinburgh |
| Firsthand Lothian | The grant will contribute to a year-long project supporting women of all ages and not just mothers, who experience mental health issues and are isolating due to Covid-19, predominantly in the most deprived areas of Edinburgh | Edinburgh |
| Resilience Learning Partnership | To cover the cost of delivering Trauma Informed Education Recruitment. | Alloa |
| Women's Business Station | To provide remote business support and coaching to up to 100 women, many with histories of hardship and disadvantage, and whose journey towards economic independence through establishing their own business is being severely hampered by the current crisis. | Dundee |
| Shaper Caper Limited | To cover the cost of running a series of practical and entrepreneurial skills development programmes. | Dundee |
| Dundee International Women's Centre | To contribute to purchasing phone and mobile data contracts for staff to enable home working. | Dundee |
| Articulate Cultural Trust | To purchase 18 Kindle Fire tablets to provide to families to allow them to maintain support and access activities during the period of lock down | Glasgow |
| Fife Women's Aid | To cover the cost of tablets for women and their children living in refuge in Fife who do not have access to IT equipment to stay connected during lockdown with online support from staff and online courses. | Glenrothes |
| Govan Community Project | To cover the cost of additional staff, training, technology support, self-care packages, and food aid for 3 months to support asylum seeker and refugee women in Govan. | Glasgow |
| Moments Peace Theatre Company | To run a remote arts project and to stay connected to 30 isolated women who they support through their various arts groups in Glasgow. | Glasgow |
| Glasgow Girls FC SCIO | To contribute to a shortfall income for the project manager's post. | Glasgow |
| Glasgow and Clyde Rape Crisis | To provide a new text line service to allow them to connect with more survivors during the lockdown period and beyond. and to provide more online resources on their website. | Glasgow |
| Minority Communities Addiction Support Service (MCASS) SCIO | To cover the cost of emergency food supplies for vulnerable women in the Asian community in Glasgow, in addition to volunteer expenses, PPE, and Zoom license. | Paisley |
| Glasgow East Women's Aid | To enable them to provide food vouchers and energy top up vouchers for women and children living in refuge or recently moved to safer accommodation in Glasgow's East End. | Glasgow |
| Well Multi-Cultural Resource Centre | To contribute towards the salary of a Deputy Manager to safely re-establish their regular women-only group work activities ((digital) ESOL English classes, Toddler group and Chai & Chat group); and provide additional support and advice to women approaching the advice consultation drop-in service. | Glasgow |
| Flourish House | The grant will contribute towards the six-month wellbeing project costs, including production and mailing of two newsletters. | Glasgow |
| Home-Start Glasgow North | To contribute to the cost of salaries, art materials, and electronic equipment for their Blank Canvas project (a perinatal support group). | Glasgow |
| Outside the Box Development Support Ltd | To support a series of digital conversations between a group of Syrian women resettled in Clydebank and elderly residents of a private care home in the Western Isles to help build English skills and reduce loneliness and isolation. | West Linton |
| No Feart | To cover the cost of training facilitators. | Glasgow |
| Esther's Company | To contribute to the costs of the continuation for a year of the project "MaxiMIND", which provides online workshops, seminars, training, and a chatroom for women in the BAME community isolated due to Covid-19 | Glasgow |
| Greenock Morton Community Trust Limited | To contribute to cost of putting 16 women from the Inverclyde area through training and thus providing an opportunity to earn coaching qualifications and experience. | Wemyss bay |
| Moira Anderson Foundation | To provide counselling session to 28 women who have experienced childhood sexual abuse | Airdrie |
| Rape and Sexual Abuse Centre Perth and Kinross | To cover the cost of online group work sessions for women receiving support from the Centre in Perth and Kinross by providing the worker with a secure work laptop and the required software to provide online creative writing, art, mindfulness and resources on self-care and mental health. | Bridge of Earn |
| ReTweed | To contribute to the cost of supporting the women to attend online support sessions, increase the hours of the support worker and provide food parcels to those in need which requires volunteers and van hire for deliveries. | Eyemouth |
| Scottish Borders Rape Crisis Centre | To cover the cost of additional hours for the support worker to meet the increase in weekly referrals for support to survivors in the Borders via phone and online. | Galashiels |
| Shetland Rape Crisis | To cover the cost of 9 laptops (£4050) to allow remote working and keep data secure, in addition to 3 electric shredders (£105) for discarding client notes securely. | Lerwick |
| Ayrshire Women's Hub | To deliver pop-up Ayrshire Women's Hub Services across various locations, including remote, rural, and deprived communities across Ayrshire. They will target vulnerable women, as they have observed an increase in demand due to Covid. By delivering well-planned holistic services they will offer women a safe place, to access vital support services, such as advocacy; welfare rights; supporting women to have the tools to work through their problems and empower women to fulfil their own potential. Reducing isolation and anxieties. They will also provide much needed basic requirements, including food and support young girls to understand power dynamics through their online programme. | Ayr |
| Positive Changes (Scotland) CIC | To contribute to the provision of one to one and group telephone support for their beneficiaries during the lockdown period as well as a contribution to staff and utilities costs due to loss of revenue from sales as a result of production of their chocolates being stopped. | Bridge of Allan |
| Women's Aid West Lothian | To contribute to taxi fares for women that require public transport to get to a supermarket more safely for the next 4 weeks | Livingston |