Investment theme: Growing social networks
How has the Women's Fund helped Fuse Youth Café?
Fuse Youth Café received a grant for £2,000 to contribute towards the cost of running a monthly event for girls to allow them to learn new skills and have new experiences.
Fuse is situated in Shettleston, an area of multiple deprivation in the East end of Glasgow, which lacks clubs and groups for young people. The Café set up a Girls Night In club as requested by the girls. There were nine sessions which ran on Saturday afternoons. At the beginning four girls attended however the number grew to over 10 aged between 12-15 years old.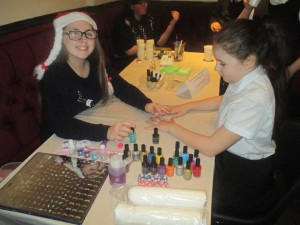 Every session had a different theme such as hair and beauty where the leaders would bring in hair and make-up products and taught the girls how to use them, a number of cooking sessions which would focus on a specific type of food such as Indian when the girls would make curry's, arts and crafts, fitness and clothes making.
For one session a spokesperson from Glasgow Rape Crises came along and discussed body image with the girls making them aware of how women are portrayed in the media. To finish off the girls had a night out and went for a meal and to see "A Christmas Carol."
The girls came from a whole mix of backgrounds. One girl, aged 13, was in foster care and throughout the 9 sessions had changed home twice. She struggled with making friends but by attending the sessions built friendships. A few of the other girls severely lacked confidence and social skills and were not going out at all outwith school. One girl was advised to go along to the Girls Night In by a teacher and by attending the girl sessions, she now attends the mixed evening sessions.
Progress made by Fuse Youth Café
A few of the girls who attended Girls Night In are now volunteering with the juniors in the afternoon sessions. The organisation supports a volunteering programme which enables young people to undertake a range of tasks which support their personal development and improve their employability.
Two girls run a baking club for the juniors and teach home baking.
Future Plans
The café plans to apply for funding again to continue the Girls Night In sessions as they were such a success and the girls loved it. Other topics which the leaders would like to cover are bullying and gambling. The girls have also been discussing more themes such as a sleepover. A summer trip is also in the pipeline.
How Fuse Youth Café helps young girls.
Fuse Youth Café helps both young girls and boys by offering a safe environment to socialise and learn. The café runs after school drop in sessions for Primary 5-7's where they can receive help with their homework, which will assist with their learning, help them become more confident with their schoolwork and possibly relieve parents at home.
Additionally those who attend can also participate in drama and sports activities. The café also offers a gig space for any young people wanting to show their music talents which could be great experience for their future. A computer suite with internet is also provided which is supported by John Wheatley College. Girls Night In was a 'platform' for young girls to make new friends, to gain confidence to go into the mixed evening sessions and build social skills to take away with them outside of the café.
"We met through the sessions as we don't attend the same school, but we have become close friends."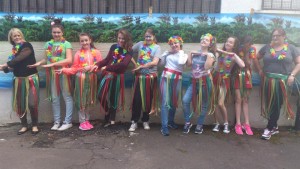 The cooking and arts and crafts sessions were fun whilst being educational. "I really liked the sessions. I made new friends and learned how to cook a meal. My favourite night was making the boxes during the arts and crafts." Serious issues were also discussed such as the topic of Body Image. A lot of young girls are vulnerable to unrealistic body images in the media, this class made them aware of how the images can be adjusted to show a different picture. "We were shown what is sometimes done to photos of women which are put in the magazines and on the internet, I wouldn't have known or noticed before the sessions. It taught me a lot and gave me confidence to say that I think it is wrong."
Fuse youth café provides supported opportunities for social interaction and access to music and drama activities. It offers access to training, skills development and support in job seeking. "A lot of the young people we see have no confidence and lack social skills. By delivering these sessions we get to watch the girls grow and develop, and to see the difference in them when they left compared to when they came in, it is amazing." Michelle Haggerty, Youth Employment and Attainment Worker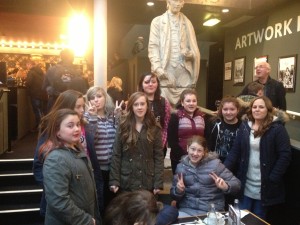 If you'd like to know more about making a donation to support organisations like Fuse Youth Cafe, via the Women's Fund for Scotland please get in touch with Shona Blakeley, Development Manager by emailing shona@foundationscotland.org.uk or call 0131 524 0353.